Vacuum Oven (Four Shelf)
Technical Parameters (can be measured at an ambient temperature of +5 to +35 °C)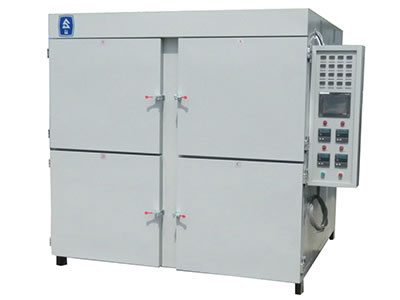 Structure
Working chamber size:590mm height, 660mm width, 1275mm depth, 4 chambers.
Dimensions: Subject to the drawings.
Insulation thickness: 90mm.
Supporting foot: 100mm.
Heater position: Around the inside of the cavity
Pumping port position: Four chambers are concentrated in one suction port and vacuuming, respectively controlled by solenoid valves.
Venting port position: Equipped with inflatable solenoid valve.
Door opening method: 4 single doors.
Control box position: Right side.
High temperature resistant sealing ring made using slicone rubber.
Equipped with digital vacuum gauge.
Each chamber is equipped with a stainless steel trolley.
Technical Parameters
Working temperature: room temperature +15 ° C ~ 200 ° C
Temperature accuracy: ±1℃
Temperature fluctuation: ±1℃
Heating time: ≤120min(empty box,25℃~150℃)
Temperature control method: PID adjustment
Vacuum degree: ≥100Pa (0.0999MPa)
Average air leakage in 24 hours: 0.3kPa/h
Housing surface temperature: ≤ room temperature +25 ° C
Electrical Capacity
Power supply: AC380V 3-phase 4-wire 50Hz
Heating power: 8KW*4
Blast power: 370W*4
Maximum current: 20A*4
Air switch capacity: 100A
Protection Devices
Air switch (prevent overcurrent and short circuit)
Overcurrent protection
Over temperature protection, over temperature alarm
Functional Requirements
Q series substrate: The equipment is program controlled and features an 8 inch colorful LCD touch screen display.
Equipped with 4 electromagnetic valves, vacuuming, holding pressure, and inflating processes are all automatic and program controlled.
Users can freely adjust the vacuum degree and temperature, and automatically maintain them under a specific temperature and vacuum degree range.
Equipment operation processes such as vacuuming, holding pressure and inflation are automatically PLC controlled.