Cooled Vacuum Oven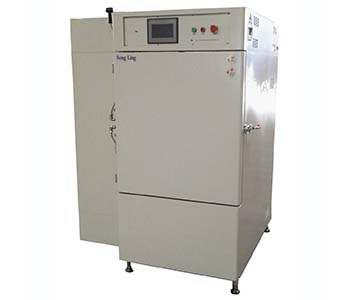 Equipped with independent air-cooled exchange cooling system, the cooled vacuum oven is used in pharmaceutical and food labs for drying bacterial and starter cultures. In addition, the cooled vacuum oven uses a air microcirculation to bake batteries and coils in the lithium battery industry, thus removing any moisture from the batteries and pole pieces in a rapid, efficient process.
Shown below are cooled vacuum ovens JLYQ has previously made for customers. Simply provide us with the required temperature, size, and structure of your workspace, and we are able to offer customized cooling vacuum ovens, all of which are equipped with numerous options to meet different customer requirements. Some of these options include overheating protection, partition equipment, fixed or castor mounted floor stand, observation window, digital timer or more advanced temperature control systems and program systems.
Standard features
The cooled vacuum oven cools surface temperatures from 100℃ to 60℃ under a full loaded situation.
Cooled vacuum ovens use a single sided door opening, five sided heating technology. Heat radiation and conduction covers the layout in a uniform manner, and a large proportion internal air transportation mode promotes baking across the entire oven interior.
The cooled vacuum ovens use an optimized vacuum pumping and door sealing crafts. The vacuum retention and pumping speed are better than other cooled vacuum oven types, and ensures products are quickly, evenly, and effectively heated.
The working chamber is made of an SUS stainless steel plate, and the housing is a painted SS41 steel plate with an excellent corrosion resistance.
The insulation is made of fiberglass
The lever latch door and airtight silicone seal allow for an excellent heat preservation.
PID temperature controller with a PT1000/K input and SSR (SCR) output.
Trolley for material inlet and outlet.
Parameters
Model
Internal Dimensions (HXWXD mm)
External Dimensions (HXWXD mm)
Heating Power
Power Supply
Temperature Range
Vacuum Leak
Cooling Time
Vacuum Degree
Temperature Control Accuracy
Temperature Uniformity
SKDC-01-C
770X770X760
1850X1430X1850
12KW
110V/220V/380V/415V…(50/60)Hz
10~200°C
<20Pa/h(average within 24 )
<180min(60℃ The surface temperature is reduced from 100℃ to 60℃ at full load.)
<10Pa(No load)
±1°C
No load: ±3℃
SKDC-02-C
1250X1150X1100
2100X1850X2450
30KW